Exhibit: "Lighthouses and Castles"

Paintings by Robert Delaney and his Great-Grandfather C.H. Moor
Stonewall Gallery ~ January & February 2018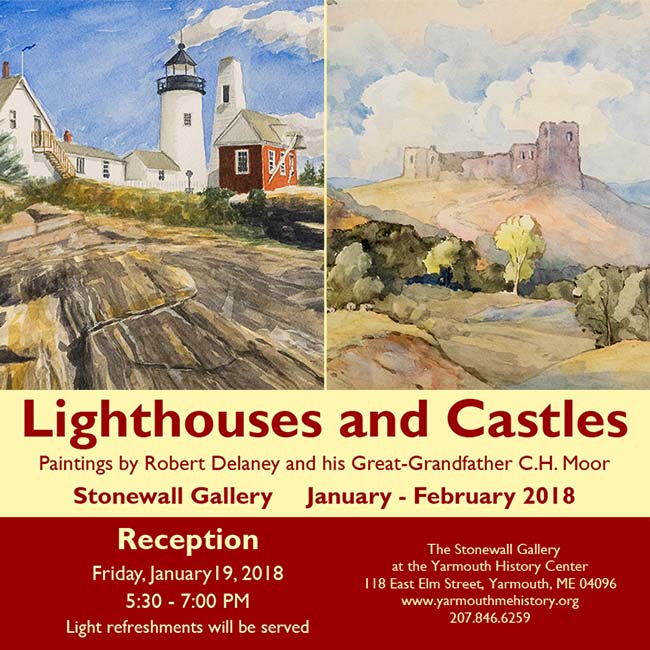 About the artists and the exhibit
This is a very unique two-man art show, as it spans three generations. I'm Robert Delaney - an artist living in southern Maine, and my great-grandfather, C.H. Moor (1876-1949), was an English watercolor artist. He was quite prolific too, and as a result my family has hundreds of his paintings (mostly watercolors, though there are also a handful of oil paintings). Moor was born in England, studied at the Kensington Gardens Art School*, and later moved to Wales where he was a member of the Swansea Art Society. He painted rural landscapes and seascapes there until moving to the United States in 1920. In the states, he lived and worked in northeast New Jersey, but would spend many weekends painting rural scenes in the Pocono region of northeastern Pennsylvania, with the town of Sciota, PA being one of his favorite areas.
I've been inspired by his works for a long time, but my admiration has grown in leaps and bounds over the past ten years as I took over as caretaker of his body of work. I have thought about and looked for ways to show and promote his art, but he himself had no known connection to Maine - my home state at this point in my life.
As for myself, I've been artistic since I was a child and I took some fine art classes in college, but did not stick with it on any regular basis until I returned to painting in 2014. I took some local art classes and was persistent and for the first time felt I had overcome the hurdle of learning to control painting mediums - basically becoming comfortable as an artist for the first time in my life.
While strengthening my own skills, I continued to wish for a way to expose my friends and community to my great-grandfather's art. While discussing this desire with Katie at the Yarmouth History Center, I said something about how C.H. Moor didn't have any connection to Maine. She said to me "You're the connection!". And so the idea for this two-man show was born. C.H. Moor's artwork has not been shown in public for many decades, so I think he'd be pretty excited about this - not only to have his work shown, but to do so alongside works by his great-grandson. I should also add that several of C.H. Moor's paintings are available for sale in this show - a rare opportunity to say the least!
You are invited to attend the free public reception on Friday, January 19th at the Stonewall Gallery. But if you can't make the reception, I hope you'll stop in to see the show, which will remain on display through the end of February, 2018.
You can view C.H. Moor watercolors or oils here on this site. You're also invited to visit my website - The Art of Robert Delaney - where you can view my artwork.
*according to his 1949 obituary in the newspaper, though I can find nothing about this art school online.